Applications are invited from Indian Nationals for engagement as Clerk of Works (Electrical) on contract basis (one vacancy) in Air India Limited at Chennai.
Qualification:
3 year Diploma in Electrical Engineering with minimum of 5 years experience in Construction/ Maintenance of Buildings after getting the diploma. OR Graduate in Electrical Engineering with 2 years experience in Construction/ Maintenance of Buildings after getting this degree. Should possess Supervisory Competency Certificate 'C' issued by Tamil Nadu Electrical Licencing Board.
Age limit:
Between 18 and 30 years.
Process of Selection:
Personal Interview.
How to Apply:
Along with the application form candidate should attach a Demand Draft of Rs.500 in favour of "Air India Limited" payable at Chennai. The application should reach on or before 15.07.2022 at the address mentioned below.
Address:
General Manager- Personnel, Southern Region, Air India Limited, Airlines House, Meenambakkam, Chennai.
Applications are invited to join the Indian Air Force as Commissioned Officers in Meteorology Branch.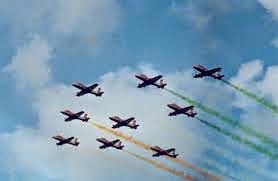 Air India - Experienced Cabin Crew (Interview Date: 27& 28.02.2022)
Air India Limited offers career opportunities to candidates with Minimum Two Years experience as Cabin Crew with Current SEP for its immediate requirement of Cabin Crew in Northern Region (Delhi).




Details of vacancies:




Male: 22




Female: 78




Age: Between 18 and 32 years.




Minimum Educational Qualification & Experience:

10 + 2 and minimum two years' flying experience as Cabin Crew in an Airline of repute with current valid SEP Book.




Venue:

Executive Director (NR)'s Office Complex, Air India Limited, Northern Region,




IGI Airport, Terminal-1, Near Old Lufthansa Hanger, JAL Road, New Delhi.




Notification


Indian Air Force - Commissioned Officers
Details:
Commissioned Officers
Qualification:
Post Graduate in any Science stream/ Mathematics/ Statistics/ Geography/ Computer applications/ Environmental Science/ Applied Physics/ Oceanography/ Meteorology/ Agriculture Meteorology/ Ecology & Environment/ Geo-Physics/ Environmental Biology with minimum of 50% marks in aggregate of all papers put together.
Age: 20 - 26 years as on 01 January 2022 i.e. born in between 02 January 2022 to 01 January 1996.
How to Apply:
Candidates are to complete the application as per format given in this advertisement, and forward to Post Bag No. 001, Nirman Bhawan Post Officer, New Delhi by ordinary post only.
Receipt of application: 17.01.2022 to 14.02.2015.
Website:
http://www.indianairforce.nic.in/
Notification